At yesterday's AMD APU13 conference AMD pulled back the covers on its latest AMD 'Kaveri' as well as some other juicy details, namely, that it will be shipping with Steamroller cores and in only two months time, January 14th.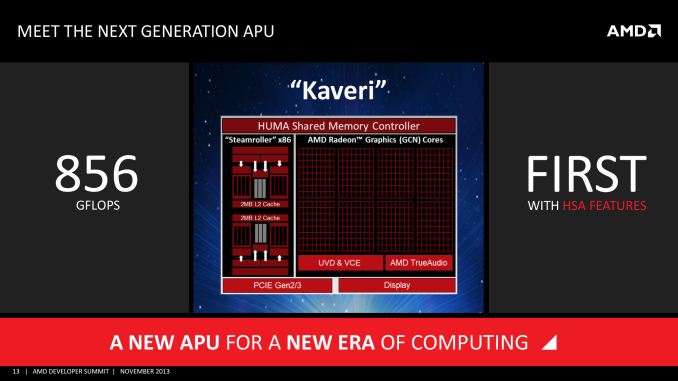 Kaveri will be the first fully HSA part from AMD that has long been the focus since their acquisition of ATi during the last decade. The chip will support shared memory access between both CPU & GPU to accelerate tasks where the software is there to take advantage of such situations.
In terms of performance, AMD shown off a brief Battlefield 4 demo (DX11) during the game's opening level and at 1080p on a 'medium' setting the game was running at 30-40FPS and the competing Intel demo with a Intel Core i7 4770K and a dedicated GT 630 was running at around 15FPS.
There are two things to take away from those initial figures is that firstly, there is certainly a level of performance from the APU on show that is close to next-gen consoles, and secondly, Intel's Iris Pro integrated GPU looks to be fighting an up-hill battle with AMD's forthcoming product. Of course the devil is in the detail of the coming weeks, but it is an exciting product without question.
The cherry on the Kaveri cake is that the new line of APUs, or at least the one demoed, will support AMD's True Audio technology first launched with their R9 290/X cards and also support their upcoming Mantle game API.
Hopefully we can dig deeper into what Kaveri offers when the product is released in mid-January. What do you think of Kaveri – would you buy a good performing APU for a LAN build? Let us know!