After much anticipation, the ROG Strix GeForce GTX 1080 Ti OC has arrived with NVIDIA's latest high-end GPU under the hood. This is a significant step up from the standard 1080; the Ti is basically a mildly de-tuned version of the Titan X tailored for gaming. As numerous media reviews have shown, it's your ticket to no-compromises 4K gaming and superior VR experiences. Here's what you need to know.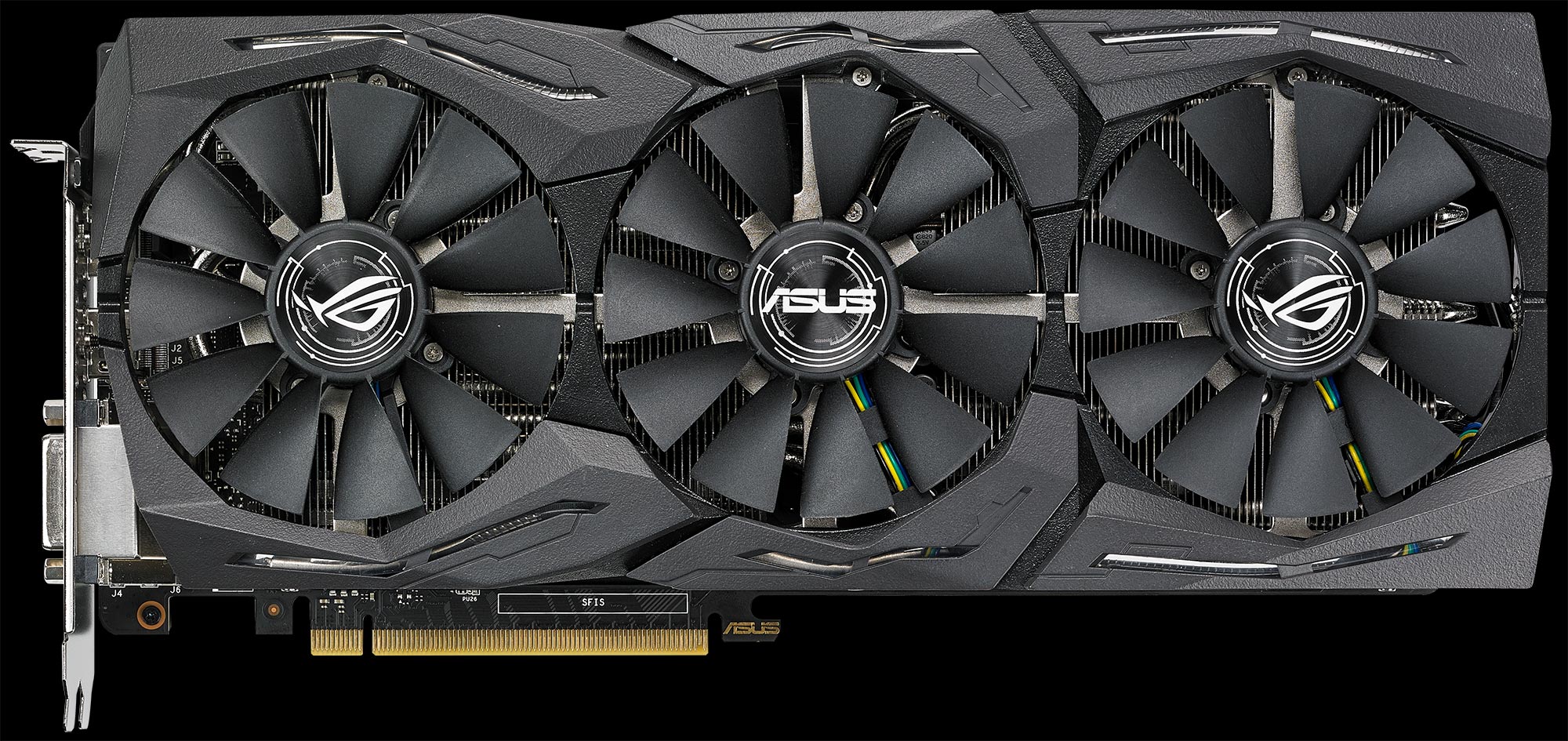 Pascal with All The Cores and higher clocks
The heart of these new cards is a Titan-derived Pascal GPU with all of its cores intact—a mind-boggling 3584 tiny engines to be exact. NVIDIA makes small cuts to the raster units in the final step of the graphics pipeline, but the base and boost clocks both rev higher to compensate. Similarly, the memory interface is slightly narrower, and the 11GB GDDR5X payload is a bit smaller, but the higher VRAM frequency picks up the slack.
An elegant example of give and take, the 1080 Ti boasts phenomenal performance for 4K gaming and pushing the limits of high-refresh monitors. And the hot-clocked OC version is even faster than the standard card. In OC mode, it pushes the base clock to 1594MHz and the boost frequency to 1708MHz, which increases 4K frame rates by 5.7% in For Honor and 7.4% in Gears of War 4.
Strix cooling spreads its wings
The Strix is well-equipped if you want to pursue even higher clocks. Our GPU Tweak II software puts vital controls at your fingertips, and the cooler has grown larger to improve thermal dissipation. The heatsink stretches across 2.5 slots, increasing its total surface area by 40% compared to the usual two-slot design. We've also tightened the tolerances for the copper plate pressed up against the GPU. Our MaxContact tech smooths out imperfections, yielding a surface that's 10X flatter—and one that's more efficient at absorbing heat from the chip.
Three of our patented wing-blade fans generate maximum airflow over the heatsink, but they only spin up as needed. 0dB tech turns them off completely until the GPU temperature exceeds 55°C, so you can watch movies and even play some games without the card making a peep. Intelligent cooling isn't just limited to the card, either. FanConnect II lets the Strix control two system fans, which improves system cooling for gaming workloads that pump a disproportionate amount of power through the GPU. The GTX 1080 Ti has a 250W power envelope—more than 2.5X higher than typical desktop CPUs—so cooling is serious business. To help you stay on top of things, GPU Tweak II calibrates connected fans and provides precise control over response curves, just like it does with the card's integrated fans.
Light 'em all up with Aura Sync
FanConnect II is a perfect example of how our components don't just exist in a vacuum. They're designed to integrate tightly with your system, and Aura Sync extends that approach to RGB lighting. In addition to providing a rainbow of colors and selection of effects for multiple zones on the card itself, Aura Sync coordinates the lighting across compatible system components, from motherboards to peripherals to LED strips. Whether its power is used to tastefully accent an elegant build or blare a blinding display that offends bystanders is entirely up to your discretion.
Customizable lighting combines with a monochromatic aesthetic to make the Strix 1080 Ti fit into any machine. It looks just as good in a blinged-out gaming beast as it does in a subtly menacing sleeper. The angular shroud and metal backplate perfectly complement the industrial design of our latest ROG motherboards.

Diversified output and built to last
The Strix GTX 1080 Ti has versatile connectivity for a range of displays. Dual HDMI 2.0 outputs let you jack in to a VR headset without unplugging your big-screen 4K TV. And there are dual DisplayPort 1.4 outs for G-Sync gaming monitors like the upcoming ROG Swift PG27UQ. Unlike the GeForce GTX 1080 Ti Founders Edition, the Strix adds a DVI output to broaden compatibility.
Cards this potent tend to live long and productive lives, so the Strix is built to last. It's manufactured using our fully automated Auto-Extreme Technology and populated with premium Super Alloy Power II components. The fans have IP5X-certified dust resistance, so they'll keep spinning true even if you don't obsessively clean your rig with blasts of compressed air.
Pricing and availability
The Strix GeForce GTX 1080 Ti includes GPU Tweak II tuning software along with a one-year XSplit Gamecaster premium license worth $99. Check with your local ASUS representative for details on pricing and availability in your region.