Fractal Design expands on their popular Dynamic Series Fans
Sweden, August 22nd, 2016 – Fractal Design Dynamic X2 GP-12 and GP-14 are true all-purpose fans, offering good airflow and best in class 100,000 hours MTBF thanks to the new LLS bearing. Their customized design creates a beautifully aesthetic fan to help keep your system cool, yet quiet.
Designed together with our high-end Venturi Series, the Dynamic X2 Series fans feature aerodynamic elements, similarly found in airplane wing designs, with significant noise-reducing elements.

Available in two colour combinations: pure black, or the classic Fractal Design signature color scheme with white blades and black frame. The Dynamic X2 series are the perfect companion for users looking to make use of an all-purpose fan with an exceptional lifespan.
High-grade LLS bearing with class leading 100,000 hours MTBF
Equipped with a counter-pull magnet that reduces the axial tension on the bearing
Fan geometry optimized for a good balance between static pressure and maximum airflow, resulting in good performance in all usage scenarios
Aerodynamically shaped stator struts including the wire strut. Helps reduce noise and unwanted turbulence
Stator struts sit on a wide angle to the trailing edge of the blades which result in a lower noise level and smoother noise profile
Strategically placed notches near the fan hub on the trailing edge of the blades further reducing the humming noise produced when the blades pass the stator struts
A "trip wire" on the rear side of the blades near the leading edge. The trip wire introduces a larger turbulent boundary layer at an earlier stage, this delays the layer separation and improves both airflow and noise characteristics
The customized design of the Dynamic Series fans contributes to a beautiful, cool build
Available in two colour combinations
Available in 120mm and 140mm fan sizes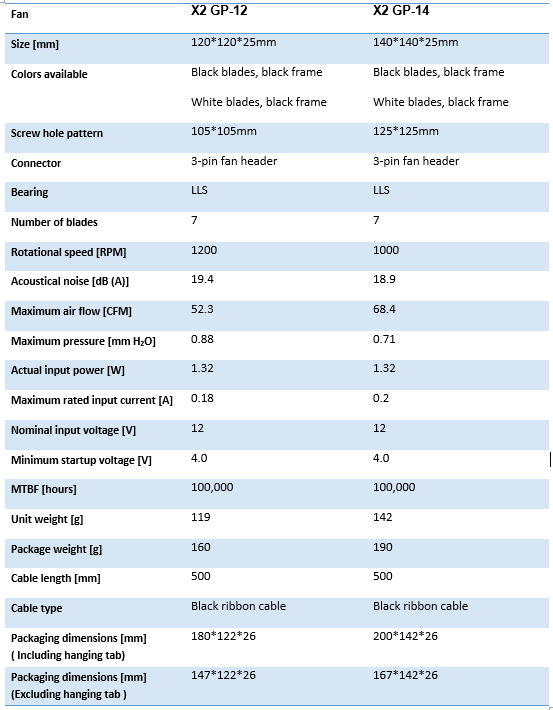 The manufacturer's suggested retail price for the Dynamic X2 GP-12 is $12.99 / €13.99 and the Dynamic X2 GP-14 is $14.99 / €15.99. Both models are currently shipping and will be available shortly.