Hey there everyone, your PC case is an important choice when selecting components and today we have a tale of a company improving on their offerings. Deepcool, one of those manufacturers that produces mainly casing and cooling components, some of their cases are legendary such as the Tri and Quad-Stellar and their AIO's are gaining lots of respect within the community. Today I have their Matrexx 70 case to review.
Now, I gave Deepcool a tough time with the Matrexx 55 as it came with a few flaws considering what it could offer. Now with the 70 being just a little larger and not much more expensive do we see any improvements?
Deepcool Matrexx 70 Specifications & Features
| | |
| --- | --- |
| Motherboards | E-ATX/ATX/Micro ATX/Mini-ITX |
| Case Type | Middle Tower |
| Materials | ABS+SPCC (Steel panel thickness: 0.6mm) Tempered Glass side panel, front panel (thickness: 3mm) |
| Product Dimensions (L×W×H) | 475×228×492mm |
| Net Weight | 8.89 kg |
| Gross Weight | 10.31 kg |
| 5.25″ Drive Bays | 0 |
| 3.5″ Drive Bays | 2 |
| 2.5″ Drive Bays | 4 |
| I/O Ports | 2×USB3.0/1×USB2.0/1xAudio(HD)/1xMic |
| Expansion Slots | 7 +2 |
| Cooling Fans Support | Pre-installed: Rear: 1×120mm. Optional: Front: 3×120/140mm; Top: 3×120/140mm |
| Cable Management | 30mm Clearance |
| Liquid Cooler Support | Front: 120/140/240/280/360mm radiator; Top: 120/140/240/280/360mm radiator; Rear: 120mm radiator |
| Power Supply Type | ATX PS2 (Length less than 200mm) |
| CPU Cooler Height Limit | 170mm |
| VGA Length Limit | 380mm (horizontal)/360mm (vertical) |
| Carton Dimension (LxWxH) | 537×285×539mm |
| EAN | 6933412713753 |
| P/N | DP-ATX-MATREXX70-BKG0P |
Product Dimension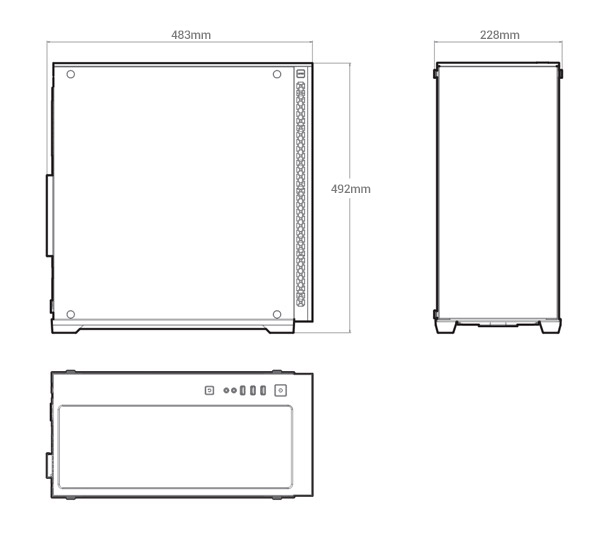 Deepcool Matrexx 70 Closer Look
As with many cases, the Matrexx 70 arrives in a pretty unremarkable box, line drawings of the case and some basic specs listed on the carton.
Out of the box we have a stylish looking case with glass panels front and side, there are some pretty substantial vents at the front, hopefully this will be good for airflow, just above the vent there is a button – more on that later.
The front glass panel is fairly heavily tinted, it looks stylish with no stickers or nameplates to break up the monolithic image.
Pressing the button previously mentioned releases the top of the panel for very easy removal.
Behind the glass we have a substantial radiator space which includes a mesh filter, I guess the idea is to have fans this side of the fittings rather than a radiator as anything too thick would obstruct the side vents.
The top of the case features a painted Deepcool logo at the front which is very understated, classy move there. A magnetic mesh covers a long fan/radiator space. Ports and buttons are located down the right hand side, top to bottom we have a Reset button, Audio Jacks, one USB 2, two USB 3 and the Power Button. I like this layout.
The off side of the case has a solid panel however like the glass on the main side its held in place with two thumbscrews at the top, this makes it very easy to remove and replace, this flip out mechanism is less tricky than the usual slide in mechanisms.
The rear of the case is fairly typical, a 120mm fan/rad space at the top, a cover resides over the thumbscrews for the 7 individual PCIe expansion slot covers, thank you Deepcool for not using the spot welded ones that disappoint me so much, a score increase for that alone.
The bottom of the case has a big long dust filter which is great to see, and it's easily removed by sliding out. There's also two very sturdy long side legs which are tipped with rubber pads that should offer great support. While it appears the gap at the front is an unfiltered hole it is actually a molded plastic area with no air going up into the front fans.
Panels off and the main build chamber reveals itself to be a spacious area, the first thing that is really noticeable however is the glass panel on top of the PSU shroud. This is a new feature to me and looks pretty well implemented although a rubber plug for the spare mounting hole would have finished it off little better. There are no rubber grommets in the cabling holes but they are smooth on the edges, in contrast to the Matrexx 55 these at first glance appear to be better placed, the whole motherboard mounting plate looks better. One final criticism at this stage is the lack of any lighting behind the plastic PSU shroud strip and nameplate, I can only think this would be included even without a controller, but there are no LED's or cables.
Again offering a decent amount of cable management space I don't foresee any issues getting the side panel back on once the build is done.
A movable cage is supplied for up to two 3.5″ hard disks with an easy single screw slide out mechanism for mounting or swapping.
An extra set of mounting holes is available to slide the HDD cage forwards in the case to allow for large power supplies.
Of course I had to test if I could get a big PSU in the chassis but I was stopped by an obstruction.
Due to the obstruction I decided to use a shorter power supply rather than 'mod' the case to make the Navitas fit, however…
With a small a small amount of disassembly I could have actually fit the PSU in the case by removing this plastic mounting bracket is for the glass panel on top of the PSU shroud. It can be replaced once the PSU is in, however with a build in the case this could possibly be a bit of a nuisance.
Two rear mounted HDD/SSD mounts are included, a single screw to remove each one which then slides off the brackets. I will note here that some manufacturers think it's ok to supply one and sell more as extras even though there are spaces for them, thankfully Deepcool have not been stingy here.
Pulling out the accessories we have a bag of screws and zip ties and a manual, minimum plastic used there by the way so a thumbs up, in fact packaging throughout has been pretty sensible with the exception of polystyrene blocks to hold the case in place, I will again recommend egg box material. Included with this case I had an unexpected surprise with the GH-01 A-RGB Graphics Card Holder, we shall incorporate this into the build.
[Editor's note: Deepcool have informed us that the GH-01 A-RGB Graphics Card Holder was added to our review sample for aesthetic purposes and that it's not normally included in the case accessories. We apologise for any confusion regarding this.]
A closer look at the GPU support gives us a manual some RGB cables, two height blocks to fit smaller and larger cases and bags with the little bits for assembly. [NB: Please see update below]
Getting to work on the build and I did a fairly simple cable management job, it was very easy and there are lots of points to anchor zip ties. You may notice top left I have also installed the A-RGB board from the Matrexx 55, I needed this to get some illumination for the GPU support bracket as no RGB cabling is included with the Matrexx 70. [NB: Please see update below]
Building into the Matrexx 70 was very quick and easy, before I knew it I had fired up the system. The GPU support here is literally only to show it fits and the excellent A-RGB illumination since such a short GPU generally doesn't sag. The GPU Support was very easy to assemble apart from my butter fingers with the placing of the rubbery GPU support bracket. [NB: Please see update below]
As we can see, the cabling holes are very well placed indeed with the further set being completely available for use in the event of an E-ATX board being installed, this is a massive improvement over the Matrexx 55 motherboard panel. The top doesn't have much space for a radiator with fans, unless one or the other was mounted outside the case. The front area is where this case shines for fan/radiator space, a custom loop would be pretty easy to do. The cutout area at the back of the glass gives us a great place to feed system cables through. Finally it would have been great for vertical mounting capability to be included and would have added greatly to the versatility of this case.
Build all done with the glass replaced the system looks very elegant indeed. I do however have one more thing to show you guys before concluding the review.
How amazing do the buttons and ports look on this case? The reset led also handles HDD activity giving it a purple colour as the HDD is in use, the rest are all illuminated using the Power LED output on the motherboard. Being able to find the ports in the dark is particularly useful, I really love this feature.
The Deepcool Matrexx 70 Review: The Verdict
I think I am quite pleasantly surprised, Deepcool have created a much improved Matrexx case. Decent build quality and well planned design with thought for cables and component fitting giving the builder many component options. There's ample space for high end watercooling as well as E-ATX capability. All in all a positive building experience with very few niggles. Packaging for the case was mostly sensible aside from two polystyrene blocks that are common with cases, a bit of a rethink would help reduce non bio degradable waste.
What's hot:
Excellent Design, Easy build
Decent build quality
Unique features, Glass PSU top and Illuminated Ports
What's not:
No LED for the PSU shroud
No Vertical GPU mounting
Needs some tidying up on the glass top.
The Deepcool Matrexx 70 Review: Conclusion
Here we have a case that falls into the incredibly easy to build into category. Great adjustable parts, plenty of room, well placed cutouts all count towards this case receiving our Design Award, an absolute pleasure to assemble. Build quality it is decent, while not the best steel available it is sturdy enough for me not to worry about damaging it by moving it around. Excellent water cooling support is included and rare at this price point. The fantastic glass top panel on the PSU shroud and the awesome illuminated ports to go with the buttons on the top are wonderful touches. Available at around £65 at the time of writing we have a serious contender here offering E-ATX support over my £70 benchmark case the H500 from NZXT. Yes there are a few small niggles which do nag away at me a little but this chassis easily grabs the Gold Award too. Well done Deepcool this is a Matrexx case that I can definitely recommend.
Thanks to Deepcool for sending a sample of the Matrexx 70 in for review.
Related Reading:
---
UPDATE 09/May/2019 10.07am GMT
Deepcool have informed us that the GH-01 A-RGB Graphics Card Holder was added to our review sample for aesthetic purposes and that it's not normally included in the case accessories. Bo has confirmed that the review findings, conclusion, product rating and awards are not affected by this. 
The GH-01 A-RGB Graphics Card Holder will be available as a standalone product and we will provide more details on the product along with availability and pricing info when we receive it.
We, along with Deepcool, apologise for any confusion.